I am doing my first link up from
Our Suburban Cottage
called, "How I met my house".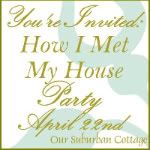 Here goes!
After moving 6 times in 2 years, Seth and I decided that we would celebrate our first official duty station by buying our own home! We were tired of landlords, deposits, people randomly showing up in the house to replace filters and loud neighbors...and mostly tired of throwing our money away every month when we handed over the rent check.
This is how it all went down. We (mostly me) looked online for houses in the Fort Benning area. We contacted a realtor regarding a particular house that we just knew was the one. He was a very nice guy and was very helpful. We told him that we wanted to come down (9 hour drive!) for a weekend and look at as many homes as we possibly could. So, we packed up and headed down for our first house hunt, in which we HAD to find our house because we didn't have any more time to make a second trip down there. When we got there, he showed us the house that we originally were in love with. The only problem was that it was about 30 minutes from town! We had no idea that it was going to be so far out of the way and we were really upset because it was a deal breaker for us, but we loved the house and the yard so much! We expected to be able to come, check it out and make sure it was what we thought, then put an offer on it. So, here we are back to step one. Our man realtor called for reinforcement the next morning and a lovely lady realtor, Kim, came and took us to so many houses. By the end of the day we still hadn't found our dream home, although we found a short sale house that would work if it had to, but it was smaller than what we wanted. We were almost ready to part ways when Kim remembered a new subdivision that we might be interested in. Sure enough, we pulled into the subdivision and loved the quaintness of the homes. They were all unique and craftsman style.
As we were driving to tour the first house, Seth and I both spotted a cute green home in the distance and said, "I hope that's the one she is going to show us!" Sure enough, we pulled into the green house driveway and as soon as we walked in, we just knew that it was the house we wanted. That afternoon, we put an offer on the house and purchased our first home! We really love living here. God has been so good to us and has blessed us more than we could have ever imagined. It is the first place I have felt was a true home for us and I hope we will be here for a few more years :)